Planning to work on your patio once the winter is over? The sheer number of options can make picking the perfect tile seem overwhelming. But don't worry, here are some of the top choices to consider: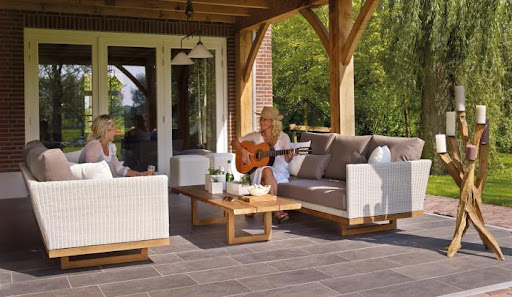 Slate
Slate is one of the better choices for natural stone in outdoor patio locations. Slate is a metamorphic rock formed under great heat and pressure. It is very hard and durable, and also very resistant to water. And unlike some other natural stones, you can select a product with a natural texture that prevents it from being as slippery as some other natural stone. Many people think of slate as a dark gray or black stone, but it is actually available in a variety of colors, including purple, green, and orange. Source: TheSpruce
Quarry
The name Quarry is a misnomer these days. Quarry stone is no longer mined from natural quarries. Instead, they are processed from dense unglazed clay. Quarry is extremely strong and works well as a paving material for patios.
Quarry was, in fact, created specifically for outdoor applications in courtyards and patios. In contrast to ceramic and porcelain, quarry is only available in a limited range of colors.
Quarry tiles help create a Mediterranean look highly prized by many homeowners. Even though this tile comes unglazed, quarry tiles have incredible water resistance, and their texture makes them slip-resistant. Quarry stone is not good for climates with freezing winter temperatures. Another downside to this material is it stains easily. But in the right climate, quarry is one of the best choices for patio application. Source: Homedit
Granite
Granite tiles are the hardest natural stone tiles, so you'll find them very durable and resilient to the elements. It is one of the best outdoor tile options if you are looking for natural stone. Consider granite if you live in a part of the country that experiences significant weather shifts from season to season. Granite tiles are also available in a range of colors, from striking white to moody black. Source: BuildDirect
If you need help choosing the right tiles for your home, or if your flooring needs repair, don't hesitate to give us a call!