When you own a rental property, it's essential to consider the tenants' needs and the wear and tear that comes with daily life. Different types of flooring can make your rental more attractive to potential tenants and easier to maintain over time — but which is best? Below are some options to consider.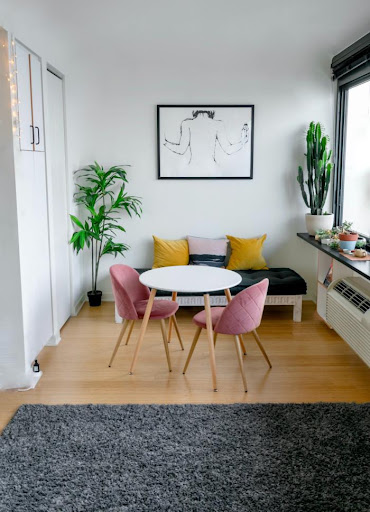 Carpet
Carpet is the most commonly used flooring in rental properties and for good reason. In terms of cost, it can be relatively inexpensive and there is a vast range of options to choose from. For this reason, you will easily be able to find one that suits your style and budget. It also acts well as a heat and noise insulator, making it a good choice for colder climates, not to mention the cozy feel it gives to a room.
Carpet is often expected by renters, especially in bedrooms and living rooms, but this doesn't mean it's without fault. Carpet is not waterproof, it stains easily, can hold odors, and is tricky to clean. So unless you are using carpet tiles, if there is a particularly stubborn stain or burn, the whole floor will need to be replaced.
In short, carpet can be a fairly reliable option for bedrooms and living areas but it doesn't come without risk. Source: LandlordStudio
Luxury vinyl tile 
Vinyl flooring is available in a number of designs and styles and has become the overwhelming choice among homeowners, as well as landlords. It caters to most tenant's desires and needs because it is:
Attractive. It can mimic stone, hardwood, and ceramic and some may have a textured surface.

Easy to maintain

Comfortable  

Durable 

Mostly waterproof and stain resistant

DIY friendly 

Can be installed over most subfloors, including concrete.

Vinyl flooring is constructed of a dense WPC (wood plastic core) that makes it waterproof, in most cases.  The heavy-duty clear protective layer above the image layer protects against heavy foot traffic, scratches, and makes the flooring stain resistant, while the soft cushion pad on the bottom removes the need for an additional layer of underlayment and adds to its comfort when walked on. Source: BuildDirect
Laminate
Pros: Created out of composite material with a highly detailed photo surface giving it a quality look, laminate is rapidly gaining in popularity. Laminate is extremely affordable and it's possible to get the luxury look of tile, stone or wood with laminate flooring. Because of the way it is manufactured, laminate is very durable and is nearly impervious to scratches, scrapes, and dents. Installation is a breeze as well. Laminate's easy care makes it a top choice for residential flooring in just about every room in the place.
Cons: Laminate is not quite as moisture resistant as many other flooring options. Also, there is a range in quality on the market, from very cheap to expensive. Many people find it hard underfoot and it can be slippery as well. Laminate flooring is "floating" which means it is not attached to the flooring below and has been known to pop or have a more hollow sound when walking. Also, this type of flooring for a rental property, while long-lasting, isn't as durable as stone or hardwood. Source: RentPrep
If you are still unsure about which type of flooring is right for you, please do not hesitate to contact us. We would be happy to help you choose the best option for your needs!