Moving into your new apartment and thinking about how you can make it look more like your own space? Try the following ideas and you'll surely be delighted on how well they can improve your new-found haven.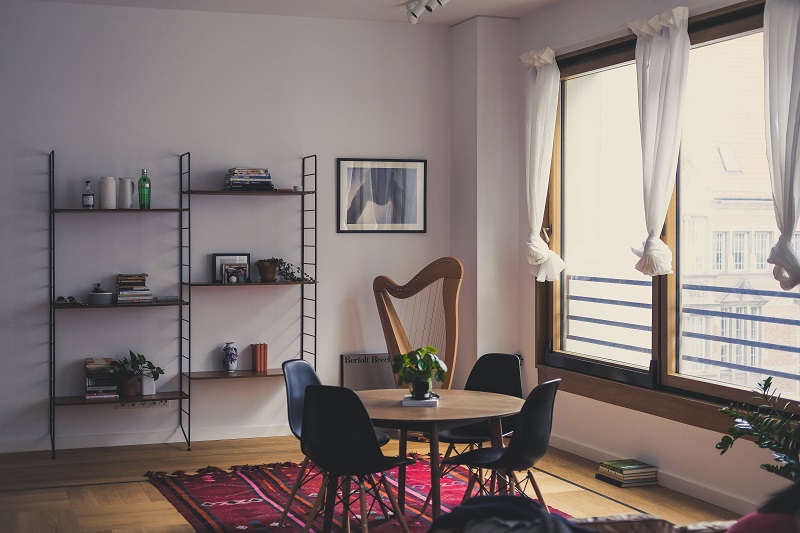 Photo by Grant on Unsplash
Install carpet tiles
A clever trick for transforming floors in a rental is to invest in a removable modular carpet square system. Available in solids, textures and prints, the squares are simply placed onto the floor then held together with stickers. The only tool needed for wall-to-wall installation is a utility knife. Once it's time to pack up and move, the carpet squares can be packed up just like everything else and reused again and again. Source: HGTV
Show off your creativity with wallpaper
If you love the look of wallpaper but hate the idea of completely losing your deposit, try removable wallpaper to add color or patter n to your space. Try it in small areas that lack personality like entrance halls, closets, or even bathrooms. Just make sure to choose water-resistant wallpaper in wet areas. Source: MyDomaine
Change your window treatments
This is another area where rentals always seem to be sorely lacking. Whether it's dirty old curtains or depressing vertical blinds, lackluster window treatments just scream "temporary home". Sort it out by upgrading to fresh curtains (even cheap no-hem IKEA ones can look great) or simple roller blinds. Source: ApartmentTherapy
Don't be afraid to make a splash
Peel-and-stick tile isn't just for floors. You can also put it straight over an outdated or ugly kitchen backsplash, and peel it off when you leave (although, depending on how much it improves the apartment's aesthetics, your landlord might not want you to). If you like a more graphic look, contact paper or vinyl peel-off wallpaper are also attractive, commitment-free solutions; so is double-sided tape and PVC paneling made to look like classic pressed tin.
Or, if you can get away with putting a few screws in the wall, cut a piece of plywood to size and mount it over the existing backsplash—and you'll have a blank canvas for anything from wallpaper to fabric to subway tile that can be removed without a trace when you leave.
Source: MentalFloss
We can help you with any of your carpet needs. Feel free to give us a call today!