Planning to install hardwood floors but don't know which type is best for you? That depends on your needs and budget. Here's a closer look at the differences between solid and engineered hardwood flooring.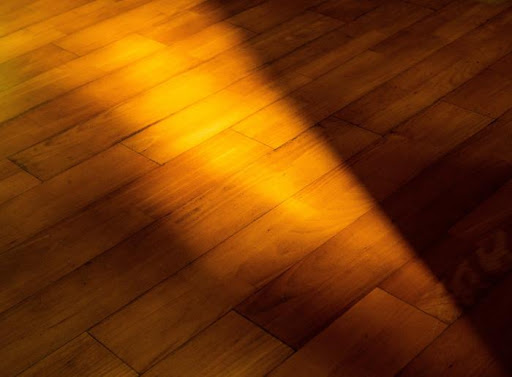 Appearance
Contrary to popular belief, engineered wood is not "fake" wood. It just uses less hardwood than solid wood flooring does. Whereas hardwood flooring is made of a solid piece of wood, engineered planks employ only a veneer of real hardwood. (This sets engineered wood apart from laminate flooring, which only uses a photographic layer for its veneer, and bamboo flooring, which actually contains no hardwood.) The colors, grains, and textures of hardwood and engineered wood vary widely, from darker ebony and rosewood, to lighter oak and birch, and from dark stains to light stains. Furthermore, most solid hardwood floors can be sanded and refinished with a new wood stain multiple times throughout its use.
Differences between the two types of flooring are more apparent when handling the raw materials. Hardwood planks tend to be heavier and thicker as a single plank of wood. Engineered planks are made up of two or more bonded layers of derivative wood products and are usually lighter and thinner. Source: Diffen
Lifespan
Although engineered and solid hardwood flooring stand up to typical wear and tear, engineered planks will have a significantly shorter lifespan than solid hardwood. Since solid hardwood can be sanded and refinished many times, Yahoodain says it can last up to 100 years.
The thin veneer of engineered hardwood can only be refinished once or twice, so it will last between 20 and 40 years. Your floor's lifespan will vary depending on your household and the type and frequency of foot traffic. Source: FamilyHandyman
Installation
Solid Hardwood
Solid hardwood flooring is installed with a tongue-and-groove system, in which each board is blind-nailed to the subfloor down through tongues at the edges of the boards.
Engineered Hardwood
Some engineered wood flooring is also installed with the same nail-down methods used for solid hardwood, but there are also forms with "click-lock" edges that can be installed as a "floating floor." Engineered wood flooring can also be glued down against a concrete subfloor. Most DIYers find engineered wood flooring to be easier to install. Source: TheSpruce
Need help with hardwood chip repairs? Give us a call and get a free estimate!