Are you tired of your old, boring ceramic tile floor? Well, don't worry—you have plenty of options when it comes to replacing it! Keep reading to learn more.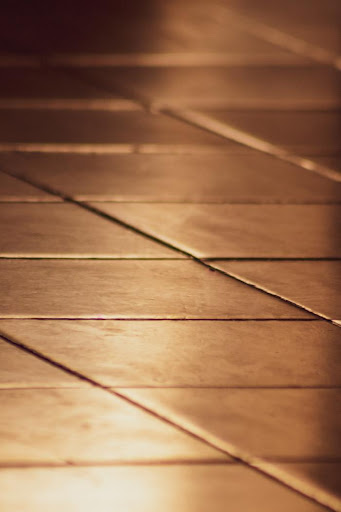 Laminate 
Laminate flooring goes very well over ceramic tiles. It is a thin, solid flooring system that doesn't require adhesive, and comes with a padded underlayment that helps smooth out any contour from the ceramic. Laminate is a cheap, fast flooring solution that easily goes right over ceramic tile. Source: Hunker
Vinyl 
Vinyl flooring is a stylish and durable flooring solution that is easy to install. Some vinyl installation types include peel-and-stick, self-adhesive, and interlocking vinyl floor tiles. 
If the top of your old floor is clean and even, you can just lay it down directly over the ceramic tile. 
Vinyl floor tiles are low maintenance, too. You can find water-resistant vinyl tiles that come in realistic hardwood and granite designs. 
Vinyl flooring, however, tends to fade when exposed to sunlight for a long time. So it's not recommended for outdoors or rooms that get a lot of sunlight. Source: DesigningIdea
Carpet
Carpet is easy to install and offers much more comfort than ceramic tiles. You can customize the thickness of the carpet depending on how much padding you want, but the thicker your carpet, the more floor height you gain. This type of flooring is great for cold and dry areas because it'll keep your floor warm. Source: Ownerly
Engineered Wood
Solid wood is not a great option as it requires plywood sub-floor before installation, and that plus the thickness of the wood (3/4 of an inch) will more often than not make the flooring too thick. That said, engineered wood can be glued directly onto the tile, making installation easy, and it is much thinner than solid wood. Source: Angi
Is it really necessary to replace your old tiles with new ones? The simplest way to bring life back to your tiles is to repair and clean them. Call us for more information!