If you're looking for the best cut pile carpeting for your home, it's essential to know which type is right for you. Here is some information on the most common options.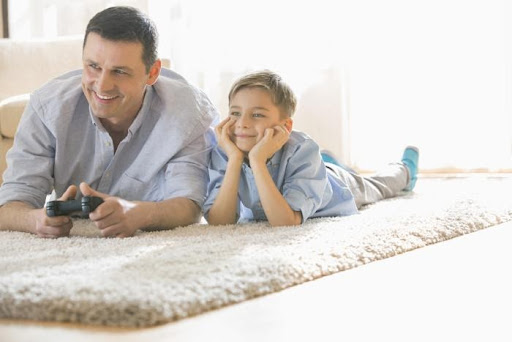 What is Cut Pile?
Cut pile starts like a loop pile, but then the tips are cut so there are no loops. This makes the cut pile carpets denser and softer than loop pile. Depending upon the shearing of the loops, the carpet might have patterns throughout. Because the threads are cut, cut pile carpet is not as durable as loop pile and needs replacement more often. Here are some of the forms of cut pile carpet: Source: Modernize
Saxony
The term Saxony pile refers to a particular type of cut-pile carpet with fibers that are very soft and dense. The relatively short fibers stand straight up and down to create a lush, fuzzy surface. The drawback to this style is that those strands are easily crushed down by feet and vacuum cleaners, leaving impressions on its surface. It is also susceptible to wear-and-tear, as well as staining, making Saxony carpets a floor treatment best suited for use in low-traffic areas, such as formal living rooms or dens. They are also somewhat more expensive than traditional cut-pile carpets. Source: TheSpruce
Textured
Textured carpeting is a cut-pile floor covering subjected to additional treatment. The yarn fibers are exposed to a steam treatment that curls the individual strands so that they stay kinked and curled. A textured carpet is less likely to show marks from footprints or a vacuum cleaner because the fibers all curl differently, compared to straight yarn fibers that bend or lie down in similar fashion under pressure or after vacuuming. A highly textured carpeting such as frieze carpet hides such marks even more, since the fibers are more twisted. Source: HomeGuides.SFGate
Frieze
Frieze carpet features tightly twisted fibers that appear curled or kinked. Steam is typically used to create that effect.
Frieze carpet is dense and durable, making it a popular choice for high-traffic areas like hallways, staircases and family rooms. It's generally considered a casual-style carpet, so choose something else for more formal rooms. Source: FamilyHandyman
There are many other carpet choices available, and we understand that finding the perfect fit for your home can be quite confusing. If you need help, don't hesitate to give us a call!