The holidays are a time for celebration, family, and friends. But they can also be a time of mess and mayhem! Between the wrapping paper, the spilled eggnog, and the tracking in of snow and mud, your floors can take a beating this season. Here are some tips on how to protect them from all the holiday chaos.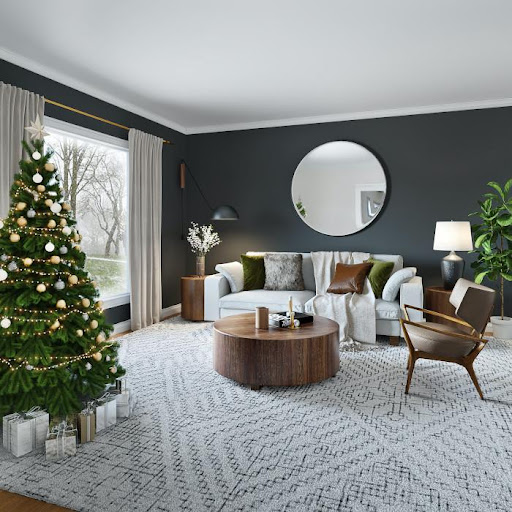 Keep dirt at bay
Will it snow this Christmas? A big risk to floors, especially during winter, is the combination of dirt, mud and grit that's used on roads and paths to stop them being so slippery.
'Grit can be one of the biggest floor destroyers as the rock salt leaves white residue and scratches if dragged along the floor,' explains Josh. 'A "no shoes inside" policy or asking guests to change their shoes at the door, and a ban on stilettos, is the ideal.
'If that makes you feel like Scrooge, then invest in scrapers at the doorstep and mats inside every door. Even pets can track in grit and a handy tip is to keep baby wipes by the door so you can clean their paws quickly,' he suggests. Source: HouseBeautiful
Place protective barriers
Whether you're hosting a sit-down dinner or you're getting ready for a holiday open house, your friends and family will need somewhere to sit down and get comfortable. Your chairs and tables might not move around much throughout the year. During the holidays, however, guests may want to shift furniture around so they can create smaller conversation circles or place drinks and hors d'oeuvres within arm's reach.
Without a protective barrier between your furniture and your floors, moving tables and chairs can seriously damage hardwood and vinyl. Before guests arrive, add felt pads to the underside of every chair and table leg. These pads make moving furniture much easier, and they also protect your flooring from scratches and impacts. Source: BuildDirect
Put a mat under the tree
O Christmas tree, O Christmas tree, how scratchy are thy branches? Scratchier than you might think, so be extra careful when bringing a fresh tree into your home. If you can, avoid dragging the tree or, if it's too large to lift, put down mats or blankets to protect your hardwood floor.
Don't abandon this caution once the tree is in the house, though, as the tree stand can also scratch up the floor. Put an under-the-tree mat or a rubber mat down to protect the floor. The water in your tree stand is yet another thing that can spell disaster for hardwood floors, so test the plastic stand for leaks beforehand. When watering the tree, ensure that you don't overfill or splash any water. Source: Angi
Get your floors looking like new in time for your Christmas parties. Call us!