Hate the bumps in your carpet? Get them stretched out with our Richmond carpet stretching service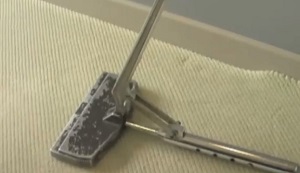 The feeling of a good carpet under your feet is always a relaxing treat so stumbling, tripping or simply walking on folds and bumps isn't fun. The first time you walked onto your carpeted floor or had your floor newly carpeted, you knew what good floor cover should feel like. But nowadays your old carpet has become nothing but a bumpy rug.
With time you find household furniture can play their part in contributing towards your growing carpet's ill alignment; from moving furniture around, dragging a chair to face another direction or simply shifting furniture during routine carpet cleaning sessions. As a result, you find:
Random folds, bumps or buckles in your carpet
Vacuuming or carpet cleaning becomes a bumpy chore
The carpet bumps slowly becoming more or bigger
The carpet is constantly tripping you on more than one occasion
Realigning or straightening your carpet though is actually quite easy and fast. You don't have to suffer with abump ridden carpet or have your floor re-carpeted. Save on the cost and simply have your carpet re-stretched.
Why should I do it?
Because there is no need to suffer with a carpet that's ridden with bumps especially when straightening your carpet is fast, easy and pocket friendly.
Don't live with a bumpy carpet or pay a lot of money having your floor re-carpeted, simply get your carpet re-stretched quickly, professionally and most of all save on costs.
Stop staring at those waves or buckles and get the peace of mind and Carpet stretching that you deserve!
"Wear occurs where waves or buckles form in carpets," Pablo Schroeder says. "By restretching rugs as soon as a wave occurs, we prevent damage to carpet fibers, make the carpet look much better so that it brings a lustre back . This saves the customers the expense of replacing carpets prematurely."
About your Richmond Carpet Stretching Expert
Owner, Pablo Schroeder, has 30 years of experience serving the Richmond area,  working with both residential and business customers. He has earned a reputation for meticulous attention to detail and guaranteed quality work.
Carpet Stretching