A new kitchen floor can modernize any home. But with so many options out there, it can be overwhelming to find the low-maintenance option that fits your style and budget. Don't worry—we're here to help. Read on to learn more about the most practical choices in the market.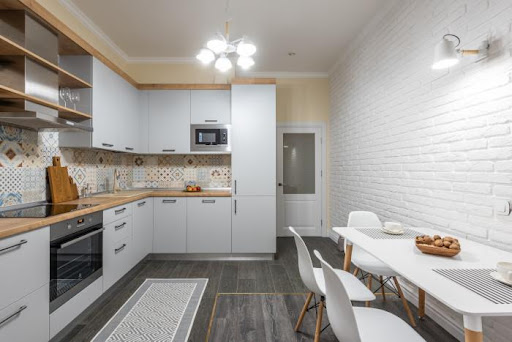 Ceramic
With ceramic flooring, you get the look, feel, and strength of natural stone in a tile that is also manufactured to be impervious to moisture penetration. Cleaning can be done by sweeping, vacuuming, or damp mopping the surface, with spot treatments being handled when necessary. You also don't have to worry about sealing the tiles themselves, although applying a coat to grout lines can help to cut down on the growth of mold. Source: TheSpruce
Laminate Wood 
With laminate wood flooring, you can have the look of a handsome dark hardwood floor that is easier to clean and costs less. There is an abundance of laminate products that offer inexpensive kitchen flooring. Consider hand-hewn texture and warm hickory tones for inviting character at less than $1 per square foot. As an added bonus, cheap laminate flooring with fold-down installation doesn't require gluing and lets you walk on the floor right away. Source: BHG
Vinyl
Vinyl flooring has seen a resurgence in recent years because of the modern upgrades it's received. Engineered vinyl flooring is now available in tiles and planks that mimic the look of hardwood and stone. It's completely waterproof, has an almost springy feel underfoot, is incredibly easy to clean and is one of the best kitchen flooring options if you want to take the DIY route.
The biggest drawback of vinyl flooring is that it is softer than other options. Large appliances can dent or scratch it, so use caution when moving or upgrading things in the kitchen.
Source: Forbes
Cork
Cork is waterproof and resilient, which makes it a comfortable, moisture-resistant choice for kitchen floors. Cork comes in 12″ x 12″ tiles and 1′ x 3′ planks, each with intriguing grain patterns. Cork has a textured surface that offers some slip resistance, too.
Cork is made from tree bark that grows back, so it's a sustainable material. It comes prefinished, but needs to be resealed every 3 to 4 years to help prevent scratches and stains. Source: HGTV
Don't spend another day dreading the look of your kitchen floor. Let us fix any damage to make it look brand new. Call us today!