So you're not exactly thrilled with your current tile situation, but you don't want to replace them all because of how expensive the project can be. What can you do? Luckily, there are a few ways to update tiles without having to pull up all the old ones. Read on for some tips!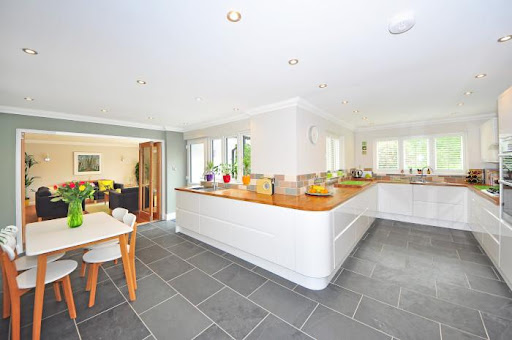 Install vinyl 
Vinyl flooring is available in the form of luxury vinyl flooring and traditional vinyl flooring. This is waterproof, has a soft underfoot and can be installed on the existing floor tiles. These are also available in different colours, patterns and designs which simulate the look of wood or natural stone. However it is not advisable to use vinyl flooring in the outdoors or in the indoor areas which are exposed to a lot of sunlight because vinyl has the tendency to fade in the presence of UV light. You can also use simple peel and stick vinyl tile stickers to refresh the look of the flooring. Source: ArchitecturalDigest
Paint it with a new color
Give the bathroom tile a completely new color to upgrade your environment, whether it's on the floor, the walls, or both. Painting works best away from the tub and shower, where excessive moisture may make it peel away prematurely. For a minor update, paint the top band of tile a new color, such as cobalt blue, to add a fresh new accent to the space, or paint an entire wall's worth of tile for a new look. Sand the tile gently to scuff it up and make it receptive to primer. Wear a dusk mask to avoid breathing in dust; then wipe the tiles down with a soft rag. A bonding primer is the key to getting paint to stick well to the tile; once that dries, use a latex semi-gloss or gloss paint to ensure the paint finish holds up well to moisture. Apply a water-based polyurethane sealer over your work after the paint dries for several days — especially on floor tile — to prolong the paint finish. Source: HomeGuides.SFGate
Cover it with decals
Another fun way to change up your bathroom tile is by adding tile decals. Decals can be used to conceal a whole tiled area, or you can choose to cover specific damaged or cracked tiles to add a statement pop of color to your bathroom.
Tile decals are fairly easy to apply. You must first ensure the area you want to cover is clean, free of any oil and grease, and totally dry. You can then peel and stick your tile decals over the area.
You can also spruce up an older bathroom tile with a colored grout pen. Changing the grout to a different shade can give your tiles a whole new look in minutes. Source: Hunker
Having trouble deciding which one of these will be your best bet? Give us a call! We'll work out a solution that will suit your budget and needs.