When it comes to flooring, there are a lot of options to choose from. If you're looking for something that's durable and low-maintenance, large format tiles may be the way to go.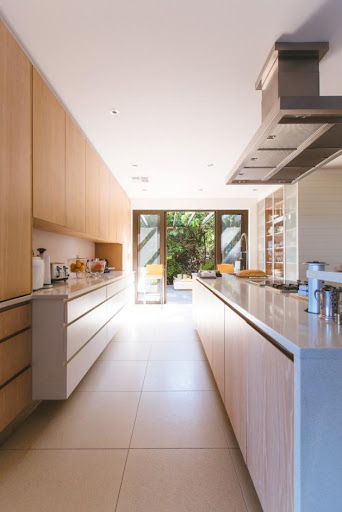 What are large-format tiles?
Large-format tiles offer a clean, sleek, modern aesthetic, but they can also work well with traditional decor. They are available in a variety of materials, including natural stone, glass and porcelain. Thanks to advances in digital printing, porcelain tiles can be made to look like natural stone, concrete, metal, wood and even fabric.
Large-format tiles can be installed on both walls and floors. When used on a wall, they can be a durable alternative to paint or wallpaper. There's no repainting or worrying about staining the wallpaper in your future. Since it's tile, you can just wipe it clean.
Tiles are considered large format when one edge is greater than 15 inches. In the past, 12-by-24-inch rectangular tiles were the most popular large-format size. Today, 18 by 36 inches is common, though, thanks to new technology, tiles are being manufactured as large as 5 by 10 feet. Source: Houzz
Benefits
Visual appeal
Larger tiles have fewer grout lines, thereby offering a smooth and visually appealing surface. Almost any room will look more open and expansive with large-format floor tiles.
Longer rectangular tiles will draw the eye toward the more distant parts of a room and create the illusion of more space. While it is only an illusion, the psychological effect can be profound.
The benefits of a large-format tile layout are particularly palpable in small spaces like bathrooms or efficiency apartments that often make people feel claustrophobic. Having large-format tiles in showers also helps in this regard.
Large-format tiles can enhance a larger room or open floor plan. But smaller tiles, with their many grout lines, sometimes crowd the area — even if it's otherwise uncluttered. Source: Rubi
Minimal grout
Naturally, large tiles require fewer grout lines because the tile itself provides more coverage.
Easy maintenance
Fewer grout lines can result in a lower-maintenance wall or floor installation. Grout has a tendency to chip away or crack over time and minimizing those grout lines make it easier to maintain. Source: BuildDirect
Want to install large format tiles at home? Call us!