Keeping your carpet clean requires a good deal of regular vacuuming. However, if the vacuum itself isn't clean, you may just be spreading dust around instead of collecting it. Here are some tips you should follow: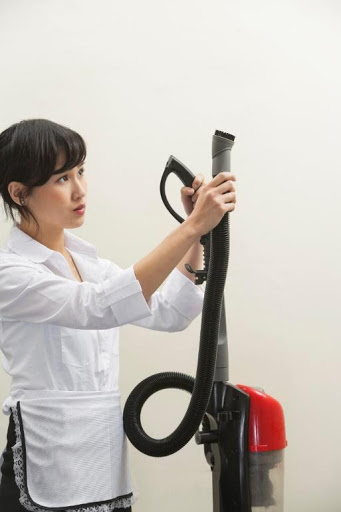 Take care of the cord
Avoid pulling out the plug with the cord or using the automatic rewind when the cord is tangled or obstructed.
Switch the bag before it gets full
Remember a bag shouldn't be full to the brim before it is changed, as vacuum cleaners can lose suction when bags are more than half full.  Source: Cleanipedia
Check the filter
If your vacuum uses a replaceable paper filter, check it every week when you check the bag. Many filters can be rinsed clean, dried, and reused. A filter that is torn or very dirty should be replaced. A blocked filter will also prevent the free flow of air through the vacuum. Never use the vacuum without the filter. For HEPA filters, follow the manufacturer's instructions. Source: MarthaStewart
Find the right settings and accessories
Most vacuum cleaners have height settings for different surfaces. Having a vacuum set too low when in use on a carpet can lead to extra pressure on the motor and brush roller. You should also make use of the correct accessories for special circumstances. For example, don't use the carpet cleaning head for a wooden floor.
Remove accumulated dirt
Some parts of a vacuum cleaner accumulate dirt. Areas around the brush roller can get caked with dirt which should be cleaned off regularly. The brush roller should be cleaned frequently. It is particularly important to remove any fibers that have been wound around the roller bearings. Source: DoItYourself
We can help you deal with all types of carpet-related problems. Stains, cuts, burns – we can repair any damage and make it look like new again. Give us a call!