People usually go to fancy hotels for a staycation just to relieve their stresses. Why spend a sum of money for only a night or two when you can use that money to create a haven inside your own home? Use the following tips to achieve that hotel feel you're aiming for: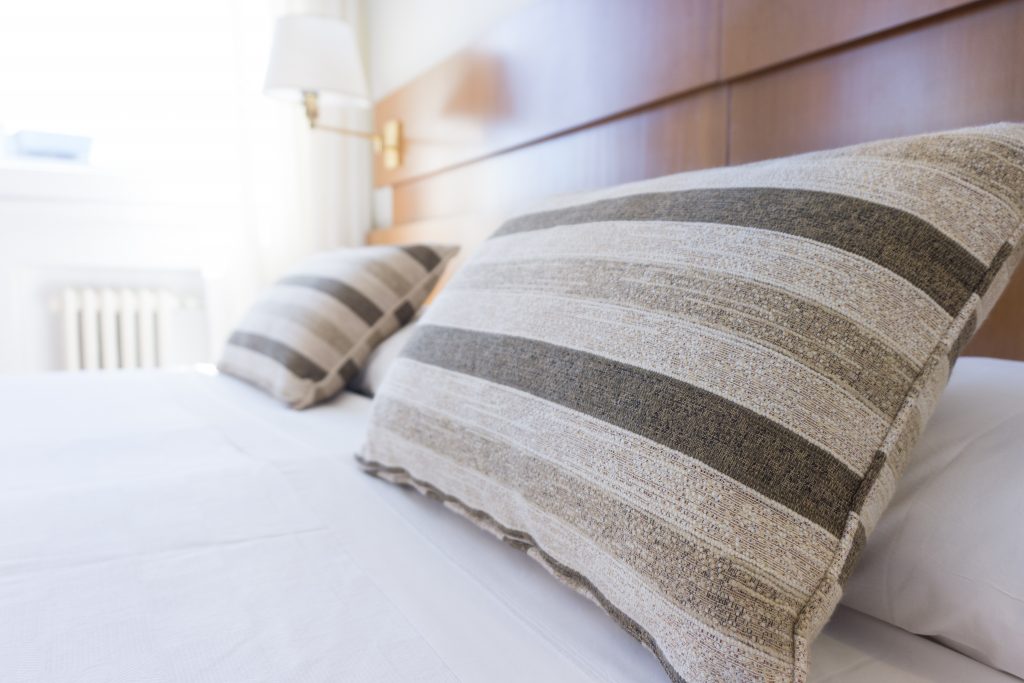 Photo by Nik Lanús on Unsplash
Pristine Sheets
The easiest way to snazz up your bedroom is to outfit your bed with a gorgeous set of sheets. To keep the hotel room look, go for a crisp, white set of sheets that are at least 300 thread count. Hotel rooms tend to use sateen or percale sheets, but you should choose the material that feels most comfortable to you.
If you want to splurge, you can have your sheets professionally laundered, so they come home nice and pressed. And if you find a brand of linens that you truly love, consider purchasing two or three sets so you always have them on hand. Source: HGTV
Keep It Personal
Real hotels tend to lack personality, so to keep your home bedroom cozy, don't skip the eccentric, personal touches—simply curate them more carefully. "Bedrooms are havens. Keep it simple and understated, but add dashes of fun and whimsy so you can wake up with a smile," says Proffitt. Anything that brings you joy and lightens up your mood deserves a spot in the room, whether it's flowers, art, or decor objects. Choose items that make you smile, then pare down the collection so the space feels personal, not cluttered. Source: RealSimple
The Not-So-Obvious Keys to Comfort
Review the room's acoustics, ventilation and system controls. If possible, add extra insulation between walls, install upgraded carpet pad, add fabric walls with padded upholstered wall panels or on the headboard.
These steps help increase comfort. In addition, the room should be ventilated correctly – common mistakes are air vents blowing over the bed. Place your bed away from air vents and make sure you have access to fresh air. Add concealed speakers at key areas for a sound system and if possible, a fireplace is always a nice feature on a cold snowy night along with a heated towel rack in your bathroom.
Install a bedside three-way switching control that is located above the nightstand for easy access. Source: TheSpruce
We can help you pick out and install a luxurious carpet that would be perfect for your bedroom. Call us today!