Are you looking for the perfect area rug to complete your home? With so many different options on the market, it can be a daunting task to determine what size and material will best suit your needs while staying within budget. But never fear! Here are some tips to help you: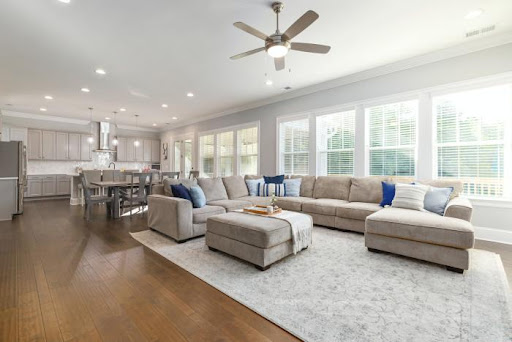 Play with textures
The key to layering carpet over carpet is to vary the texture. Area rugs generally work best over short-pile or looped carpet. In those cases, laying a thick, luxurious shag rug adds a wonderful sense of softness and elegance to the space.
Similarly, if you have a more plush style of carpet installed, choosing a low-profile Berber or woven rug is your best bet. Don't put an area rug over a very long-pile carpet, such as a frieze carpet or a newer "soft carpet" (such as SmartStrand) because the area rug will not have firm support, and will shift, buckle and wrinkle. Source: TheSpruce
Try different sizes
If you want to partition your space, use a couple of smaller rugs that complement each other. On the other hand, if you're looking to cover as much of your wall-to-wall carpet as possible, go bigger with a room-sized area rug.
Get a rug pad
In my opinion, you can't have a rug without a rug pad. Just because it's carpet doesn't mean this marriage should be broken up. Look for rug pads that are specifically for use over carpets or try double-sided carpet tape. Both work well when trying to combat creeping. Source: ApartmentTherapy
Take inspiration from the season
As the seasons change, it's natural for you to want to do some simple swaps around the house to get you in the spirit, but don't stop at throw pillows and holiday decor. You'd be surprised how easy it is to update the entire feel of your room every few months with a simple rug swap. Changing your rugs a few times per year will keep your design fresh, satisfy your ever-evolving decor cravings, and help you ring in new seasons with minimal effort and maximum payoff. Source: MyDomaine
If you're ever in doubt when it comes to choosing the right area rug or flooring for your home, don't hesitate to give us a call! We're here to help.