Doing other stuff along with the normal daily workload is enough to make anyone too busy to decorate their home for the holidays. It may only be a couple weeks before Christmas, but you still have enough time to squeeze in some last minute décor. Consider starting with the following: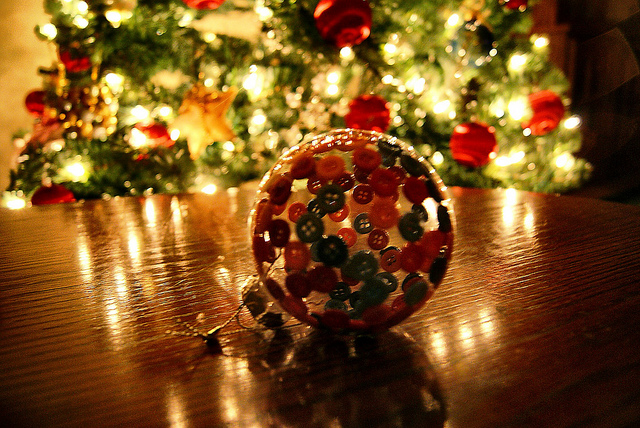 Image Source: Flickr
Twinkling vases
Tiny bulbs create a striking modern display when placed in frosted cylindrical vases.
Wrap ribbon around the bottoms of the vases and affix with double-sided tape. Loosely coil a single strand of lights in each vase, and then send the plug end over the back lip of the vase and run it behind so it's hidden. Use lights that have been tested for safety (look on the label), and always unplug the strand when left unattended. Source: MarthaStewart
Cookie cutter wreath
This wreath is quick and easy to make, but you have to be willing to sacrifice a few cookie cutters. Just glue the shapes together. That's it. You can spray paint the wreath and add a bow if you want, or leave it plain if you don't have any. Source: Christmas.WonderHowTo
DIY advent calendar
It's not too late to get your first advent calendar started! Just need some strings, paper bags, clips and some optional decorations. You and your family each drop some small goodies for each other into the bags and then seal them closed. You'll have each day to look forward to opening one of these goodie bags. Source: Organics
Festive stairways
"Oftentimes, we put all of our decorations in one place in our homes, but make a concerted effort to create a small moment in every space," Brent suggests. "Consider wrapping a pine or holly garland up the stairway or setting up a little festive display on a console or entry table, or even in a small wall nook to make each space feel special." Source: InStyle
One of the things most people notice when they come over to someone else's home is their flooring. If you have a damaged or dirty carpet, then sorting it out before they visit for the holidays will surely make your home look more presentable. We can help you. Call us!