Maintaining the cleanliness of your carpet keeps everyone at home healthy. It's also one way to prevent your carpet from starting to look old. When you pick a vacuum cleaner for the job, look for the following features: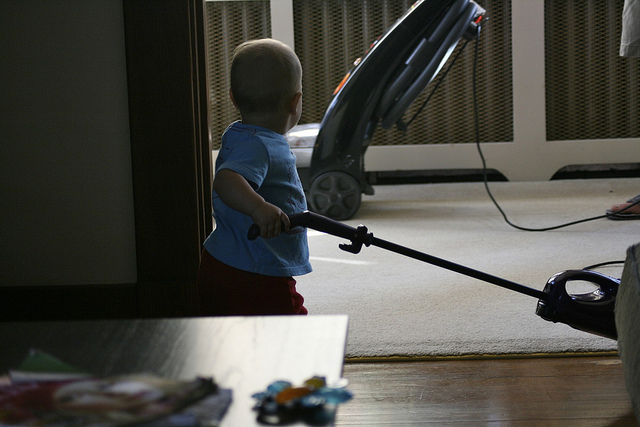 Image Source: Flickr
On/Off Brushroll
This is one of my favorite features. While a brush roll is great when you are vacuuming carpet it can damage hard surface floors and some rugs. Having the option to turn off the brush roll is a great option that increases the usability of the vacuum cleaner. Usually, there will be a button or lever that can be used to turn the brush roll on or off. Many more upright vacuum cleaners are beginning to have this option, although some of the lower priced vacuum cleaners may not. Source: TheSpruce
Find Out Its Noise Levels
No matter how trivial they may seem, these are the little details that will affect your willingness to use the appliance in cleaning. You obviously need an appliance that operates smoothly and quietly. With some people attuned to their favorite music, the least you need is an appliance that sounds louder than your music. Canister vacuum cleaners produce less noise, which too should be taken into consideration before buying a particular cleaner. Source: VacuumsGuide
Built-in Tool Storage
Many vacuums now contain dedicated containers built into the frame of the vacuum itself for storing brushes and other add-ons. Source: Groupon
Cyclonic Technology
The new guy on the block in vacuum cleaners loses the vacuum bag in favor of a whirlwind that deposits dirt directly into a holding tray. It's called cyclonic action, and Dyson claims to have invented this revolutionary approach to floor cleaning 30 years ago. There are a number of models using this technology, some better than others. If you're in the market for one, Consumer Reports has reviewed a number of them, giving each one a rating out of 100. All have pros and cons, so do your research before you buy one. Source: Home.HowStuffWorks
No matter how many times you vacuum your carpet each month, it's still best to have it deep cleaned once in a while. Contact us today!