Moving into a new house signifies new beginnings, and that's why, as much as possible, you'd like everything to be perfect. But with all the people helping you unpack, and all the furniture being moved around, keeping your carpet clean and damage-free can be a tough task. So, consider the following tips to help you keep your carpets safe while moving: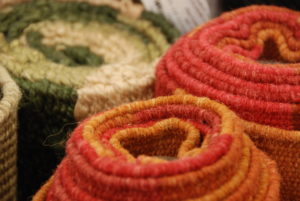 Image Source: Flickr
Self-Adhesive Carpet Film
One of the best ways to prevent any damage to your carpet is to purchase a special self-adhesive plastic film made for protecting carpets. These products allow you to easily cover your carpet with a tear-free, non-slip surface. Most brands of carpet-protecting film won't leave adhesive residue behind on your carpets and are available in a variety of sizes. You can even purchase a paint roller-like applicator to help you lay the film out. However, although they are great products, they don't come cheap.
If you can't find the plastic film, or don't want to spend the money on it, there are a few other things you can do. You can place any bed sheets, blankets, towels, or drop-cloths over your carpet. If you have any old rolls of carpet lying around, you can cut these into strips and place them on top of the existing carpet.
Though these materials provide for an inexpensive way of protecting your carpets, they can easily bunch up and possibly cause someone to trip. You can try to prevent this by taping them down with blue painter's tape. Still, you and your movers should be extra careful when walking on these surfaces. Source: Movers
Plywood
Use plywood to protect floors when moving appliances and electronics that are larger like a freezer, refrigerator and washing machine. You can put that in the kitchen. The plywood sheets will also protect floors when moving being damaged since paper is going to be too thin to rely on when it comes to appliances because they have sharp edges unlike the soft couches and the mattresses from the living room or bedroom, for example. Source: MyMovingReviews
Shoe Booties
If you worry about dust, dirt, and grass stains more than crushing carpet pile, you can encourage everyone who helps you move to put on shoe covers whenever they enter your home. Since you likely will only want shoe covers for the first few days of moving, you should buy a large pack of cheap, disposable booties rather than one or two expensive, longer-lasting covers. Source: Bekins
For carpet installation and repairs, contact us!