Travertine tiles have a long history of bringing together the natural beauty of marble with the durability and affordability that come with man-made materials. Tiles made from travertine can be found in homes, offices, restaurants, hotels and spas around the world. Find out if it will suit your needs and budget by reading below: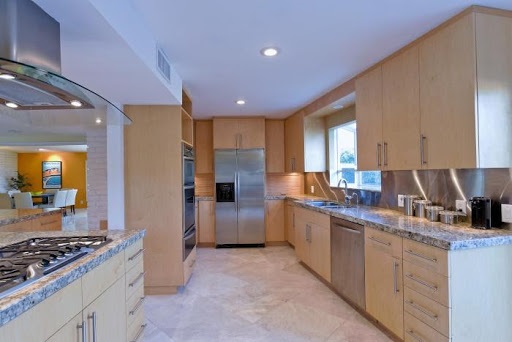 Appearance
Travertine is often visibly porous, giving it a more natural, textured look. However, when sanded down and sealed, travertine tiles are smooth and suitable for flooring or as shower tiles. This stone is relatively soft and absorbent, so it requires a few coats of sealant to prevent debris from penetrating the stone.
Travertine's colors are typically warm and range from the lightest white or cream to beige, gold, brown, and even red. Slight color and pattern variations between tiles keep them from looking too uniform. This type of stone is also available in a variety of finishes, including polished, honed, brushed, saw cut, and tumbled. Source: BuildDirect
Costs
Travertine is a mid-range stone in terms of cost, but this puts it at the high-end in the entire range of flooring materials. A travertine floor averages about $15 per square foot for materials plus labor. Marble, by comparison, averages around $20 per square foot, and granite averages around $12 per square foot. Laminate flooring, at the low end of all flooring materials, can be professionally installed for less than $5 per square foot. Like other natural stone, though, travertine flooring can vary substantially in price—from as low as $3 to as high as $30 per square foot, depending on the quality and finish of the stone. Source: TheSpruce
Maintenance
As already stated, travertine tile is an incredibly beautiful natural stone tile that makes a great impression to your room, and over all home. However, it does have one striking drawback. Travertine tiles are notoriously known as being high maintenance tiles. This doesn't mean they are not worth having in your home. But, it does mean that you should take extra time and effort in keeping your tiles looking new.

1. Blot Spills Immediately – When something is dropped on the tile, immediately blot it with a soft cloth or sponge. Do not wipe it, as this can move small particles around scratching the surface.

2. Protect Floor with Mats – Travertine scratches very easily so it is a good idea to keep mats on the floor, and to replace and metal slides on chairs and furniture with vinyl slides.

3. Clean with Soap And Warm Water – Be very careful of any type of all purpose cleaner and detergents with citrus, vinegar, or acid solvents. They can seriously discolor the tile and stain it very easily. Source: DoItYourself
If you're thinking about installing these beautiful stones at home, we recommend hiring someone who specializes in this type of work to save time and money. So don't hesitate to call us today so we can get started right away!