Drying your carpet right after it gets wet is important in order to avoid irreparable damage. Take note of these different methods: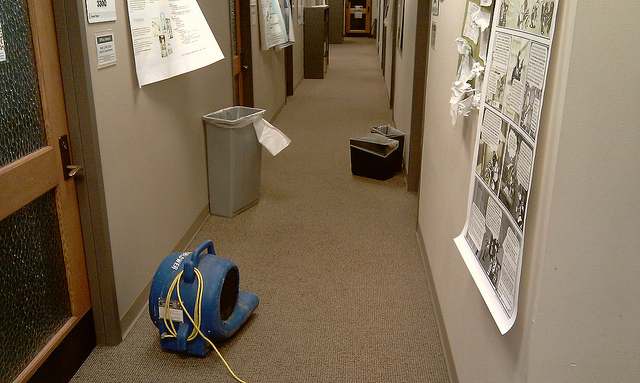 Image Source: Flickr
Vacuum it
Do not do this with a regular home vacuum. You need a vacuum that is made to soak up water. Most vacuum cleaner sold for home use are for dry cleaning only and are extremely dangerous if used on wet carpets. Do not use your household vacuum cleaner unless it is approved for wet vacuuming.
Vacuum the carpet with the wet vacuum cleaner until you get no more water. The wet vacuum cleaner removes water from the carpet itself, but it may not be able to remove it from the padding if the water has wicked through the carpet backing or soaked in under the edges.
Keep an eye on the fill tank and make sure you dump it before hitting overflow. Depending on the amount of water in the carpet, you may have to dump the tank several times. Source: WikiHow
Use fans
It can take several days for fans to completely dry a water-damaged area. The good news is that they also help circulate fresh air.
"When you think it's all nice and dry inside, it's not," Lipford adds. "Keep the fans going 24 hours a day for at least another week or so."
Homeowners can rent high-power drying fans from local home improvement stores with tool rental service. Source: AngiesList
Soak up excess water using paper towels
Spread several towels over the wet carpet. In bare feet, walk up and down the surface of the towels. When they are completely saturated, replace with dry towels. Repeat this process if any excess moisture remains. Source: DoItYourself
Is your carpet already too water damaged? Before you decide to replace it, ask a professional if it's still reparable. Contact us today!