There are many reasons why you may have a carpet in your home that you despise, but you can't replace.  If you're thinking about what you can do about it, then check out these 3 ways to hide ugly carpet: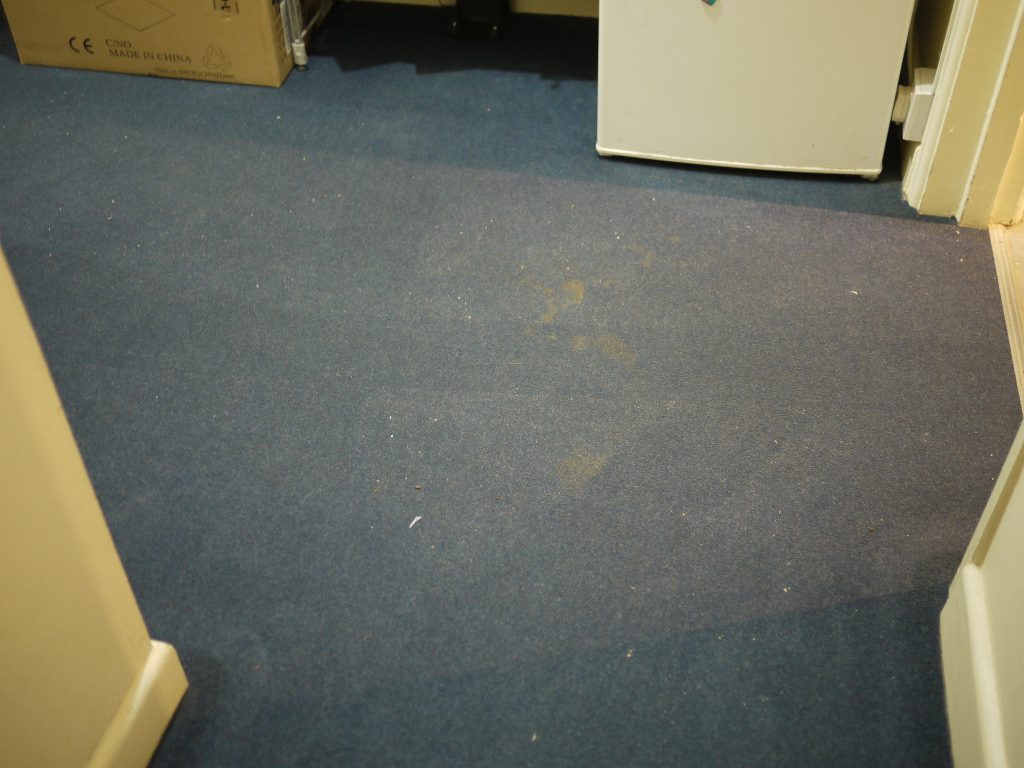 Image Source: Flickr
Add Lots of Texture
A metallic pouf, a jute rug, a wire side table, an angular gallery wall — one peek at all this fun stuff (in complimentary neutral hues), and you barely see the bland carpeting that lies beneath. Source: GoodHouseKeeping
Call Attention to Ceiling
If your room doesn't feature a fireplace or other architectural feature that can serve as a focal point, you can still detract from ugly carpeting by calling attention to the ceiling. Drawing the eye upward helps make the carpet less noticeable. A chandelier is an ideal option if you want to take attention away from the carpet because these fixtures are usually highly decorative and can make a dramatic statement in a living room, dining room or bedroom. However, if you prefer a subtle look, try hanging several simple pendant lights in a bold color in the center of the room to distract from the carpeting. You can also paint your ceiling a color other than white to draw the eye upward — or if you're artistic, consider painting a mural on your ceiling to take the attention away from your carpeting. Source: HomeGuides.SFGate
Use Area Rugs
This is the tried and true method of hiding ugly carpet, and it seems as if this decorating tip as been passed on from generation to generation. Use area rugs to cover spots on the carpet or to attract the eyes to something other than the carpet underneath it. Buy area rugs that compliment the carpet and the furniture. Don't make the mistake of buying an area rug that is so drastic in color or theme to your decor that something looks wrong with the room, even more than the ugly carpet. You can find used ones in good condition at yard sales or your local dollar store. Don't buy expensive area rugs, because you don't know what carpets you'll get in your next apartment or house. Think of it as a temporary solution. Source: Ohmyapt.ApartmentRatings
When all else fails and you choose to just install a new carpet, make it hassle-free by calling a professional. Contact us!